SuperPATH, the Direct Superior Percutaneously-Assisted Total Hip replacement, is a popular member of the family of total hip replacement techniques known as "micro-invasive approaches." Other such techniques include PATH, Supercap, Northern, Direct Superior, TSPS, CPP, and SPAIRE approaches, all of which have published excellent clinical results. The inception of this family of approaches dates back to 2002. SuperPATH is an evolutionary result of our past 18 years of clinical experience. To date, SuperPATH's approach methodology and tooling is patented, and it is the only hip replacement technique to receive FDA (US) clearance for the technique itself.
SuperPATH is a micro-invasive method of performing a standard total hip replacement where the surgeon utilizes a smaller initial incision and, more importantly, a very limited dissection in the deep tissues. This technique avoids cutting muscles and tendons, minimizing surgical trauma and improving the post-operative experience. Additionally, because this technique minimizes damage to the capsule surrounding the hip, it preserves its inherent neurologic status, maintaining an additional aspect of proprioception (position sense), which might help protect the hip later on. This technique is performed by making a limited slit through the superior part of the capsule only.
SuperPATH is performed while the hip remains in a natural rested position during the surgical procedure. By contrast, traditional techniques require twisting and contorting the lower extremity in order to dislocate the hip joint to perform the surgery, with the possibility of complications such as increased postoperative soreness, all the way to intraoperative fractures of the femur requiring more extensive surgery.
Potential advantages of SuperPATH include:
A safer operation, with lower reported complication rates than other techniques, especially alternative minimally-invasive techniques 1,4,6
More consistent & accurate implant positioning 2
Lower reported post-operative pain 4,6
Minimal blood loss during surgery 1,4,5,6
No motion limitations 1,3,4,6
Shorter recovery time 3,4,6
Faster return to safe driving 5
Reduced dislocation risk 1,4,6
Gofton W, Chow J, Olsen KD, Fitch DA. Thirty-day readmission rate and discharge status following hip arthroplasty using the supercapsular percutaneously-assisted total hip surgical technique. Int Orthop. 2015; 39: 847-51.
Daluga D. Accuracy of the Acetabular Index Using the Percutaneous Assisted Total Hip Technique. Am J Orthop 2012; 41 (2): 74-78.
Chow J, Fitch D. Supercapsular Portal-Assisted Total Hip (SuperPATH): Early Results and Technique. Bone Joint J Proceedings. 2016 May.
Chow J. SuperPath: The Direct Superior Portal Assisted Total Hip Approach. J Bone Joint Surg Am Essential Surgical Techniques. 2017; ST-D-16-00061R1.
Qurashi S, Chinnappa J, Lord S, Nazha A, Gordon J, Chow J. Driving After Microinvasive Total Hip Arthroplasty. J Arthroplasty. 2017; (32) 1525-1529.
Chow J, Fitch D. Perioperative Outcomes for Nearly 500 Consecutive Supercapsular Percutaneously-Assisted Total Hip Replacements. Bone Joint J Proceedings 2018; Feb 21, Vol. 98-B, No. SUPP_7.
Why Choose the SuperPath® Hip Approach
SuperPath Hip Approach vs. Traditional Hip Approaches
SuperPath Hip Approach vs. Anterior Approach
History of SuperPath Minimally Invasive Hip Approach
SuperPath Hip Approach & Patient Recovery
SuperPath® Hip Approach & Length of Stay
SuperPath® Hip Approach Patient Testimonial - Dr. Bharat Latthe MD
SuperPath® Hip Approach Patient Testimonial - Scott Hedge
Minimally invasive Hip Replacement
Dr. Sol Qurashi is one of many international surgeons who have visited us to learn this technique. His video provides an excellent overview.
Information about the origins of this hybrid approach can be found at: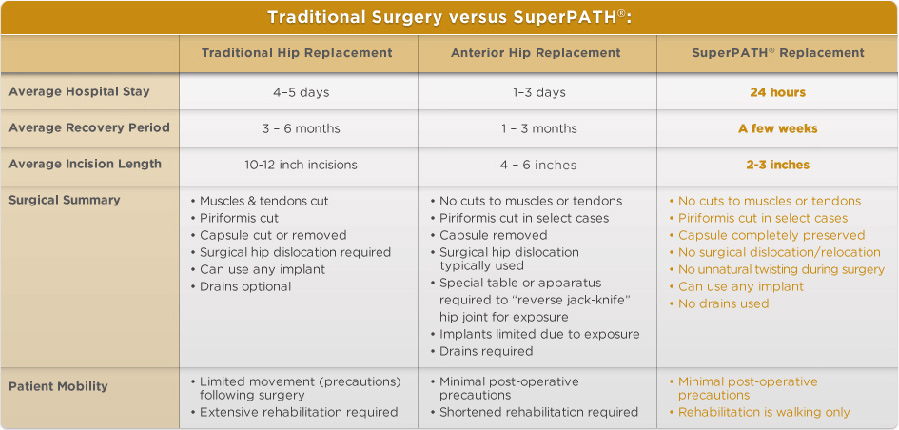 Total Hip Replacement Arizona
6 Days After Superpath Left Hip Replacement
SuperPATH Interview 1 (1 week post-op) – Medical tourism
SuperPATH Interview 2 (2 weeks post-op)
This video is mislabeled. This patient was doing so well, he mis-spoke during his interview. This interview, including the golfing, occurred at 2 weeks post-op, not 3 weeks post-op
SuperPATH Interview 3 (3 weeks post-op) – Bilateral hip disease
SuperPATH technique